May 08, 2015
Notes from my 2006 Trip to Spain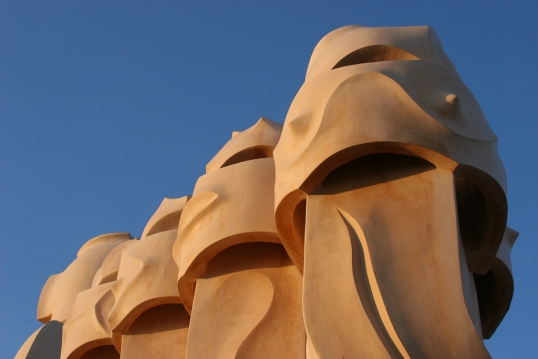 This is a brain dump of the pencil and paper notes I took during my visit to Spain in November 2006.
Updates
May 11th, 2015: Added Barcelona section.
May 13th, 2015: Added links to Madrid and Toledo sections.
May 18th, 2015: Updated and added links to Granada section.
May 19th, 2015: Updated Figueres section and added Resources section.
May 20th, 2015: Added links to Sevilla section.
May 26th, 2015: Added links to Córdoba section.
Madrid
November 14th, 2006.
Flew from Munich to Madrid on Condor. They had a cockpit cam so was able to see crew's eye view of the takeoff and landing.
Stayed at Hostal Puerta del Sol.
What to see & do
Prado Highlights
All day, from 10:30 AM to 6:00 PM. So much to see.
Toledo
November 18, 2006. Day trip by train from Madrid.
Thirty minutes on renfe train. Walked up the hill, through the city walls and to Plaza Zocodover.
Wandered narrow cobblestone streets.
What to see & do
Granada
November 19, 2006. Flew from Madrid to Granada with Vueling.
Stayed at Hotel Casa de los Migueletes in the Albayzín. What a treat. Moorish architecture with tile floors, white stucco walls with dark wooden trim, courtyard and wine cellar. Some rooms have a view of the Alhambra.
Eclectic mix of people. Dreadlocked nouveau-hippies, old men in caps, Roma etc.
What to see & do
Alhambra
November 20th, 2006. All day.
Las Alpujarras
November 22, 2006. Day trip by bus from Granada.
Took bus to Capileira, then walked to Bubión and Pampaneira.
Dramatic scenery. Hills, cliffs, gorges, ravines, whitewashed buildings on hillsides, narrow streets.
Córdoba
November 23-25, 2006. Via bus from Granada.
Stayed at Hotel Mezquita, which is very close to the Mezquita (Mosque–Cathedral of Córdoba).
Lots of restaurants & tabernas in courtyards for al fresco dining.
What to see & do
Sevilla
November 26-30, 2006.
Tapas, tapas, tapas! Fun & lively atmosphere.
What to see & do
Jerez de la Frontera
November 28th, 2006. Day trip from Sevilla.
What to see & do
Tour of House of Sandeman with Porto & Sherry (Xeres, Jerez) tasting
Tour of González Byass Sherry bodegas
Alcázar

Palacio Villavicencio: Camera Obscura. Offers a live, real-time, 360° view of the city. Very cool!
Cádiz
November 29th, 2006. Afternoon trip by bus from Sevilla.
According to its Wikipedia entry, Cádiz is one of the oldest continuously inhabited cities in Europe.
What to see & do
Walk along coastal route
Tapas and cerveza/vino
Playa Victoria
Torre Tavira with camera obscura
Parc Genoves
Santiponce
November 30th, 2006. Bus from Sevilla.
What to see & do
Barcelona
December 1-7, 2006. Flew from Sevilla with Vueling Airlines.
Stayed at the Hotel California. Such a lovely place…
The official languages are Catalan and Spanish. The former sounds like a mix of Spanish and French.
What to see & do
Montserrat
December 4th, 2006. Day trip from Barcelona via commuter train.
What to see & do
Take cable car or cremallara
Sant Jeroni peak
Walking/hiking trails
Amazing rock formations
Santa Maria de Montserrat Abbey
Cathedral
Figueres
December 5th or 6th, 2006. Day trip from Barcelona by train.
Figueres means fig trees in Catalan.
What to see & do
Observations
People are friendly and generally pretty chill. Friendly service.
Jamón, jamón! The Spaniards love ham.
Lots of olive groves
Wind turbines
Churros con chocolate
Rioja wine
Tío Pepe is everywhere
Wine

Rioja
Priorat
Sherry
Brandy

Tapas

Aceitunas (olives)
Almonds
More jamón
Resources
Books and websites about visiting Spain.
Books
Websites